Diane Selkirk
Predating the Silk Road and the Amber Road, Canada's Nuxalk-Carrier Grease Trail is a narrow, little-known footpath that's been worn deeply into the earth by 6,000 years of walkers. From time immemorial, this 279-mile trail – which starts at a glacier-fed fjord near Bella Coola in the Great Bear Rainforest, climbs east over mountain ranges and then fans out across what's now known as British Columbia – has been an overland trade route. Over the millennia, it's seen the exchange of goods such as jade, copper, basketry, food, hides, obsidian and the highly valued commodity the trail was named for: the nutritious oil or "grease" of the small eulachon fish that continues to be a delicacy among First Nations people.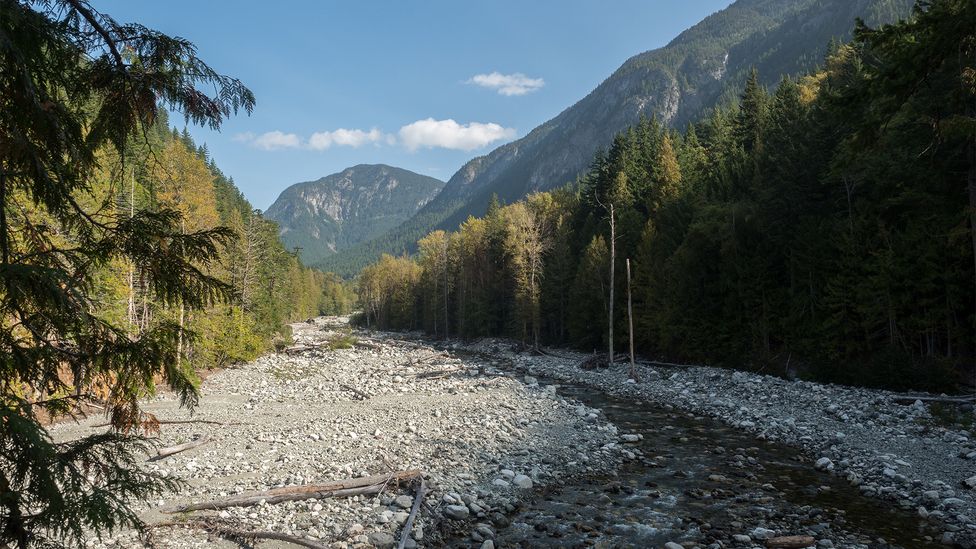 The trail starts by the glacier-fed Bella Coola River and extends for 279 miles (Credit: Diane Selkirk)
Taking my first steps on the ancient pathway in the Bella Coola Valley, I half expected to feel something transcendent; echoes of the past perhaps. In 1793, this was the last section of the route that carried the first European, Alexander Mackenzie, from Montreal across what's now known as Canada to the Pacific Ocean – constituting the first known transcontinental crossing of the Americas north of Mexico. This "great road" as Mackenzie called the trail in his journal, "was very good and well traced". It was also well populated. And as I hiked, I imagined encountering one of the Ulkatcho families he wrote of, who were heading "to the great river to fish"; or maybe a group of young Dene men on a trade journey.
Climbing upward, I left the valley's monumental cedars behind and entered a forest of stunted trees and bright green moss. By my thousandth (or so) uphill footstep, the forest around me had thinned and the past felt ever present. Stepping out of the woods and into a clearing, Mackenzie's 228-year-old words predicted the view: "Before us appeared a stupendous mountain, whose snow-clad summit was lost in the clouds."
A hiking trail is a little like an unfolding story. And, like many stories, my hike had a prologue. I'd been sitting on a beach in the Broughton Archipelago, 200km south of Bella Coola, after spending the day spotting orcas and visiting long-abandoned Mamalilikulla First Nation villages. Sifting my fingers through the sun-warmed sand, I'd come up with an unexpected prize: a small, glassy shard of obsidian. Digging back in, I was soon inspecting a growing pile of volcanic glass. A kayaking mate declared the obsidian was from the area's many overland "grease trails", a term I was only vaguely familiar with.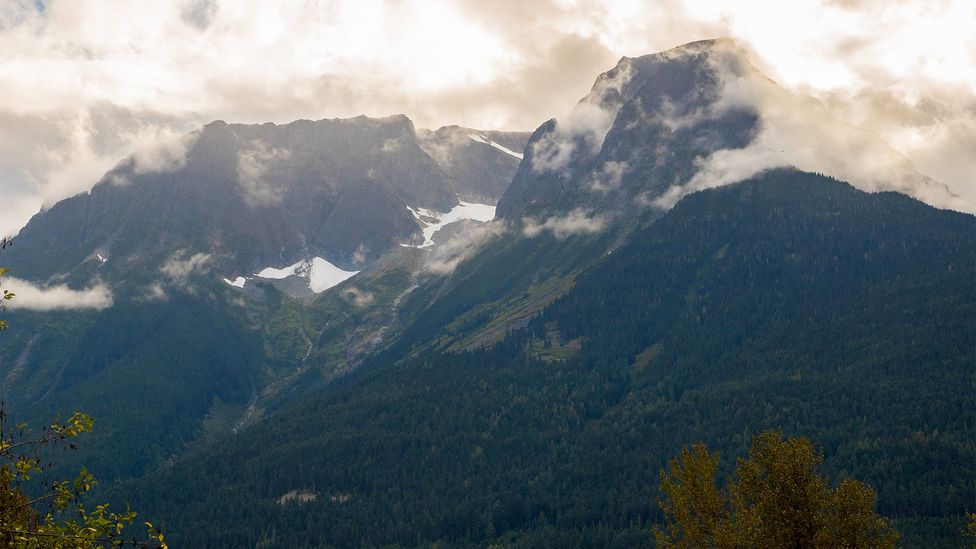 "Before us appeared a stupendous mountain, whose snow-clad summit was lost in the clouds," wrote MacKenzie of the trail's timeless view (Credit: Diane Selkirk)
According to archaeologist Joanne Hammond, the scattering of obsidian flakes I'd found is known as debitage (waste flakes from tool making) and they are pretty widespread. "You're looking at close to 15,000 years of continuous occupation on the [British Columbia] coast, that's upwards of 500 generations of people making stone tools. That leaves a lot of stone tool debris around," she said.
There are no volcanoes in the Broughton Archipelago, but Hammond explained this is where the grease trails come in. "Despite the fact there's only a few sources; obsidian was widely traded across all of BC. You can even find north-western obsidian in eastern Canada," she said.
Curious about the path the obsidian must have taken, I made a plan to hike a grease trail. The most obvious contender was the Nuxalk-Carrier. It starts at what was once the largest eulachon run in the region (the Bella Coola River), and traverses what are now known as Tweedsmuir (South) and Kluskoil Lake Provincial Parks to reach Besbut'a or Anahim Peak, one of only two locations in British Columbia where obsidian is found. From there, it continues to the Blackwater River, just west of the city of Quesnel.
My other reason for choosing the Nuxalk-Carrier is that, unlike so many other grease trails, it still exists.
While no-one knows the exact number of these ancient trade routes that once crisscrossed British Columbia, it is believed there were hundreds of them. But according to Hammond, they have now mostly vanished, and only a handful are in their traditional state. "The smallpox epidemic of 1862 to '63 was conducted along the same trade routes that had provided Indigenous people with wealth and commodities," she said. The epidemic killed an estimated 60-90% of a population that was conservatively estimated at 200,000, and according to Canadian magazine Maclean's, it resulted in "a crisis that left mass graves, deserted villages, traumatized survivors and societal collapse and, in a real way, created the conditions for modern-day British Columbia".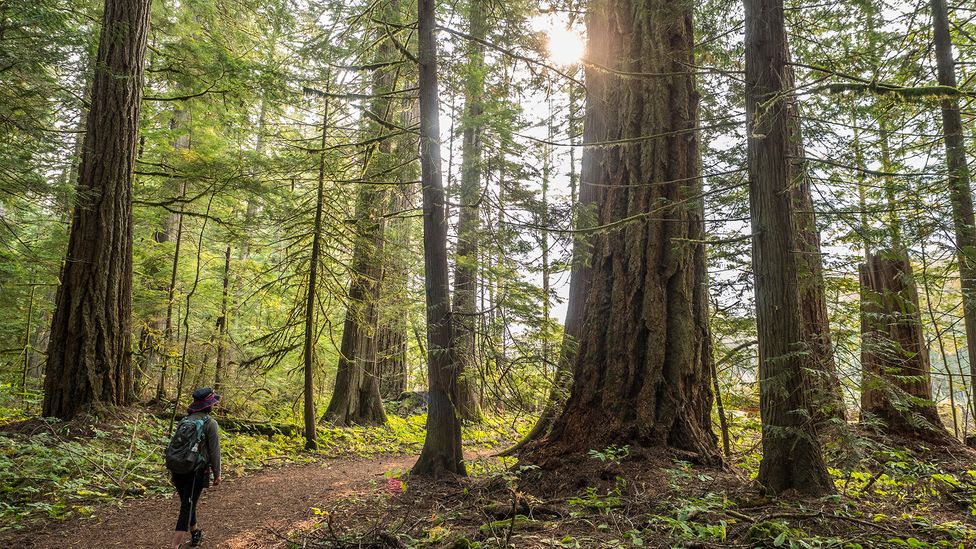 First Nations communities used hundreds of grease trails to transport goods, and as settlers arrived, they used them to help unite modern-day Canada (Credit: Diane Selkirk)
With the Indigenous population gone from their land, "those trails disappeared," Hammond said. And as far as the trails that remained, "impacts from industrial forestry have pretty much wiped out 90% of them." As for the rest, "some trails were well established enough that when the Europeans and Americans first showed up, they were the obvious way to go. So, they were very heavily used."
First came the fur trappers who turned some of the remaining grease trails into fur brigade trails, connecting northern British Columbia with the Columbia River. Next came the gold rush, with the many prospectors who fanned out across British Columbia using these well-worn paths. Later many of the routes, which were usually the easiest way across plateaus, highlands and mountain ranges, were replaced by the railways and wagon routes that brought westward migrating settlers, creating the conditions for British Columbia to join Canada in 1871. Over the decades to come, the original usage of the trails was all but forgotten. "Now many of them are provincial highways," Hammond said.
Lynda Price, Chief of the Ulkatcho First Nation, is aware of how rare it is to still have a grease trail in her territory. She explained that the trails and her culture have always been interconnected. Not only is her own heritage a mixture of the Nations found along the Nuxalk-Carrier Grease Trail, but her Nuxalk ancestors were traders who knew all the trails. When explorers, including Mackenzie, reached their territory, they acted as guides. "You could say we have a tourism tradition that goes back to Mackenzie," Price said of the trail's first unofficial tourist.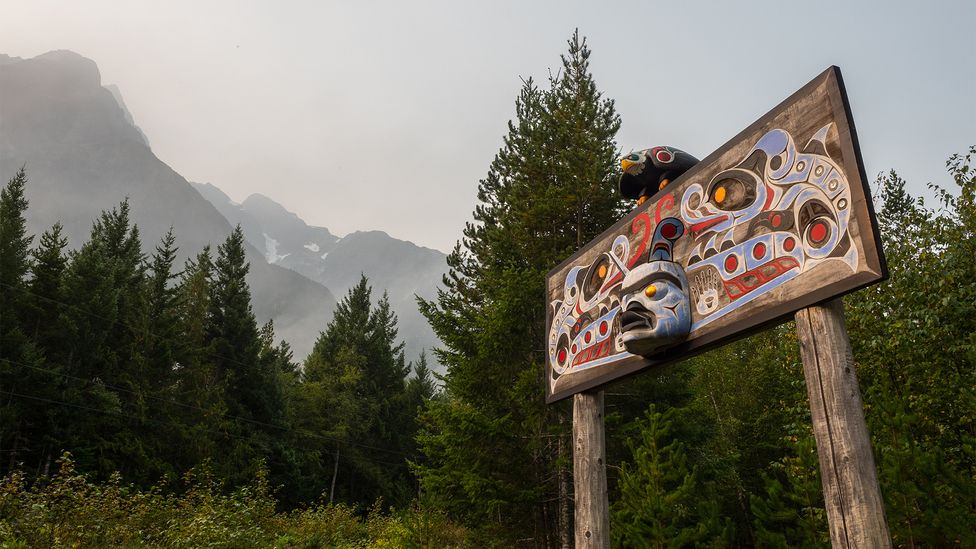 The Nuxalk-Carrier Grease Trail goes through six First Nations (Credit: Diane Selkirk)
In 1985, the old Nuxalk-Carrier Trail was redesignated as the Alexander Mackenzie Heritage Trail – a name that excluded the six First Nations (the Nuxalk, Ulkatcho, Lhoosk'uz Dene, Lhtako Dene, Nazko and Lheidli T'enneh) who'd established it millennia before Mackenzie followed its course and subsequently received a knighthood from King George III. And while local tourism bodies initially hoped it could be the next great long-distance hike, there was remarkably little outside interest in actually doing the work to save the 6,000-year-old pathway.
According to Price, parts of the Nuxalk-Carrier Grease Trail had been steadily disappearing for decades. Even as elder stories revealed how members of her Nation continued to use it "as a trail connecting several sacred sites including fishing and hunting spots as well as crematory and spiritual sites", forestry roads, logging and forest fires had made sections of the path impassable. Since other portions of the trail had been turned into roads, through-hiking – already a three-week endeavour – became more challenging. As a result, shorter day hikes, guided packhorse journeys and weekend backpacking trips on the better-preserved sections became the norm.
Local communities are hoping that this trail, which sustained them in the past, can offer a path into the future
Yet, the increasing effects of climate change have meant resource-based communities like the Ulkatcho First Nation are looking at expanding their economies away from logging. As a result, local communities are hoping that this trail, which sustained them in the past, can offer a path into the future.
Forming an Elder's Council in 2011, the six Nations that share the trail began looking for ways to preserve its legacy by seeking out funding, partnering with the provincial parks and engaging in storytelling projects to help educate people about the trail's cultural value. The next step has been to get the trail back in shape. For the past three years, Price says her Nation has been clearing and rebuilding the trail, adding signage, reestablishing traditional place names and recording sacred archaeological sites. "We now have young people who are looking at starting tourism businesses based on the trail," she said. The goal, she added, is to once again manage the territory and invite visitors in to explore it.
For now, hikers who don't want to carry a pack and camp in the backcountry can stay in lodges in Bella Coola or Tweedsmuir Park and do day hikes, or participate in one of the tours and programmes with the Nuxalk Nation. There is also a wide range of frontcountry campsites in the region, and several of the communities, such as in Anahim Lake and Quesnel, offer lodging.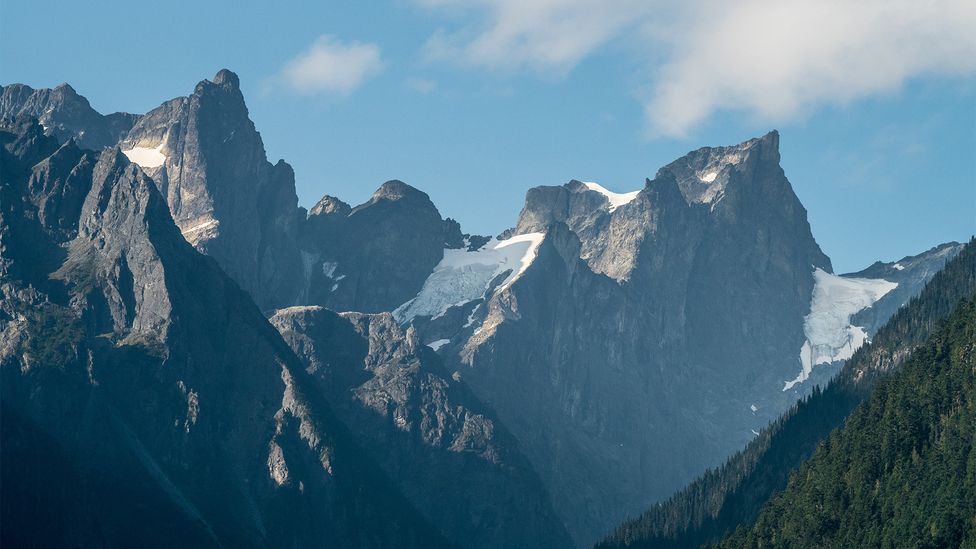 Like the communities who have long lived here, the land surrounding the grease trails is enduring (Credit: Diane Selkirk)
As I continued my hike, I switch-backed down into a valley set deep in the woods. There, it was almost possible to imagine the grease trail winding on through the forests, across rivers and into the rainbow-coloured high plateaus, just as it had for millennia. Even as I followed the same path that traders, travellers and Canada's early settlers did, I knew this ancient trail had scars. But I also knew that, like its stewards, it's enduring.
In fact, I already have my next hike planned on the trail: I'm headed north to the Anahim Peak, the likely origin of the obsidian I found. According to Price, the elders once had a special campsite near the source of the sacred black rock, and like the trail itself, it had always lured travellers. "People would have come from there from all around," she said.
Courtesy: (BBC)